When I first learned about senior projects last year, I knew I needed to do one. I have a deep appreciation for the environment and art. Therefore, I knew I wanted my senior project to combine my two main interests. In my opinion, art and nature go hand in hand because nature is often full of inspiring beauty, which I hope to depict in my paintings.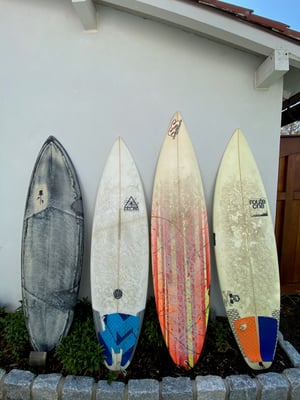 I decided to paint on surfboards and highlight environmental issues through the different pieces. I chose surfboards because the worldwide surfing community is very active in environmentalist issues. In my independent study, I am painting my brother's surfboards and also researching what surfing communities are doing to try to reverse the damage done to the earth. I have designed about 4 boards in my sketchbook and I have researched two foundations so far that have made tremendous strides in protecting coastlines, habitats, and raising awareness. My advisor, Mr. McCain, put me in touch with a Tabor alumnus who is the executive director for WSL Pure, an organization focused on giving professional and amateur surfers opportunities to restore the ocean. For example, WSL Pure sponsored an initiative in Tahiti as part of a WSL surf event where young surfers took a break from their beloved sport to help restore and plant coral. I have already learned a lot from researching WSL Pure and Surfriders Foundation. Surfriders was founded by a group of surfers around 35 years ago, and ever since they have been very active in protecting coastlines from being developed, sponsoring coastal cleanups, and opening chapters in multiple states. Through my connection with Pure, I am excited to interview Reece Pacheco '01 about his job and what he enjoys most about working for such a proactive company.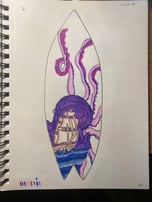 It is hard to find the motivation to keep researching and writing journal entries, considering I have not started to produce any artwork; however, I have been able to stay on track due to the interesting articles I am able to read. Since this global pandemic started, it seems that all anyone ever talks about is the coronavirus. I have the BBC app on my phone and usually enjoy reading what's going on in the world, however, I have grown so tired of hearing about the horrors of this virus and the chaos it's creating. Therefore, I enjoy the escape provided by reading about the positive steps surfers are taking in their communities. It is way more uplifting than reading about COVID-19.
I am planning on beginning my first board next week and I am so excited to begin this project at last. A big art project is exactly what I need in these times.