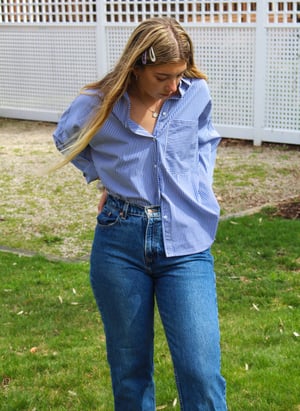 For my senior project, I created a fashion blog called "WCKD." I came to this idea for a senior project during my freshman year during that year's project presentations. Nathalie Cavallo '16 had created a lifestyle and fashion blog for her project, and though I did not actually get to see her presentation, I could not wait to get a hold of her website and take a look. I hassled my sister, a class mate of Nathalie's, to get the link for me. After taking one look at Nathalie's blog, I was inspired and could not wait to create my own fashion blog for my senior project.
At Tabor, I have taken three photography classes and two photoshop classes. Taking pictures and editing those pictures as I build and post to my blog has been easy thanks to those courses. It has been fun to apply the skills I have learned in photography and photoshop to a project I am really passionate about, and I am learning more about how these images communicate the messages I want to convey. The project also utilizes my interest in writing, and it has been fun to hone that skill as well.
I hope to inspire people in my community and those outside of my community to become more interested in fashion or at least read what I have to say. I want to excite those who read my blog and hope that my passion for what I am doing is found within my work. I hope to accomplish a professional and unique fashion blog that incorporates my community, one which has helped to increase my engagement with the fashion world. I have always been interested in fashion and the fashion community, and my blog is providing me with an opportunity to add my ideas and become involved in this worldwide community.
My senior project has revealed different aspects of the fashion world that have really sparked an interest in me. For example, one of my first blog posts was on fast fashion, and I learned the harsh effects that the consumer side of fashion is creating. It has been so interesting to learn more about how to become more sustainable in my fashion choices and more conscious of the brands that I buy from. I want those who read my blog to learn how to be more sustainable and hopefully spark a commitment in them as well.
I am so grateful that Tabor provides the senior class with this amazing outside-of-the-classroom experience. Having the time to combine my different talents and skills into a project that speaks to my interests has increased my learning opportunities beyond what I could have learned in class. I am hopeful that I will have time to continue to grow my blog in my life after Tabor!