Joslyn Jenkins '17 and Eddie Hannon '17 are Tabor's Co-Heads of School for the 2016-17 school year, a position they were elected to by Tabor's entire student body. Here are excerpts from their opening Chapel Talk: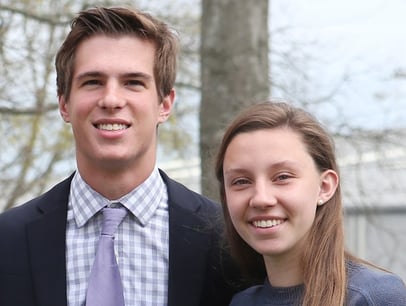 We're Joslyn and Eddie, but you can call us Jeddie, and we're really excited to be your co-heads of school this year! We hope everyone had a nice long summer and that you took advantage of the few months to relax as we are now approaching another school year. For those who are new, we hope you're enjoying your first few days as Seawolves!
I looked back to one of my earliest memories as a freshman at Tabor, when I walked out of my marine science class wearing flats. I was probably three steps down when I slipped and flew down the rest of the stairs. I landed at the bottom with my books everywhere and backpack firmly not on my back. When I looked up, I saw an entire team of upperclassmen guys just staring at me. However, instead of making fun of me as I thought they would based on my knowledge of high school that I gained from watching the Disney Channel, they actually helped me up, gathered my books, and made sure I was OK.
Then, I saw a beach party in the mailbox area fully equipped with a pool and popsicles. I saw Mr. McEnroe literally chop a carpet in half with a giant sword. And I saw my light so shine before others that they may see my good work. Then, I just simply saw our community sitting together, talking, and laughing, a constant net of support and encouragement that never once cracks during the year. We concluded that Tabor is a special place.
This is obviously cliché and what every school will say about itself, but having been to two high schools, I can say that there is something different about Tabor.
This place has too much to offer to all of us. Yes, Tabor has plenty of excellent programs, whether it's in the academics, arts, or athletics, but what truly makes this place so unique is the people here. Throughout the entire campus, there is never a lack of positivity and talent that fuels the students and teachers we are lucky enough to learn from every day here. Coming here, I thought I would just be another number on the jersey, focusing solely on hockey and my academics. I never thought I would play the guitar at chapel in front of so many people, nor did I think I would ever be up here today. I can honestly say that the reason I am speaking to you all now is because of the friendships I have made and the overwhelming support I received from everyone. Nothing seemed out of the box for me anymore once I arrived at Tabor.
I personally never thought I would be standing up here for a very different reason- that being I had lost both the sophomore and junior presidential elections before running for this position, and the only reason I was confident enough to get on stage a third time was because of the support I received from my friends.
The truth is, anything can happen while you are here as long as you immerse yourself in the culture we have. This is also cliche, but try new things, no matter how many times you fail, or how awkward it might be.
Eddie and I were both lucky enough to step outside of our comfort zones, and that is exactly what we encourage you to do this year. We want you to recognize that the thing you are most passionate about, which could be something you haven't explored yet.
We are by no means saying that you have to sign up for every club offered, because that is entirely unrealistic and frankly unhealthy. It is really important to pick your head up from your books and head over to a dance or a movie in Lyndon South. Part of the reason that Tabor is so special is that it allows and expects you to balance those aspects of life.
Eddie and I really want to make sure you are all enjoying yourselves this year. While it is up to you how you manage in the classroom, on the sports field, or in the studio, we feel like it's our responsibility to help you take advantage of opportunities on campus and really get the most out of your time at Tabor.
Our job is to make sure you don't identify yourself as merely an athlete or a student. Joslyn and I will do our best to make sure every aspect of Tabor, the arts, athletics, and academics are acknowledged this year, including all those who take part in them. You do not have to be the best math student or the star football player to be recognized here. Everyone has something they are passionate about and that is something that can only benefit our community. We will take advantage of showcasing your talents, no matter what it is you love.
We know many of you are anxious for the year ahead, but we encourage you not to worry because we are ready to have an amazing year and we couldn't be more excited to get to know you guys and be a part of this community.
We hope you have a good first week and remember…It's a great day to be a Seawolf!