David Horne has been a musical institution at Tabor for the past twenty-two years. During his long career, Mr. Horne has filled many roles: chapel organist, choral director, dorm parent, musical director, drama director, and advisor. Indeed, he has been the consummate boarding school faculty member.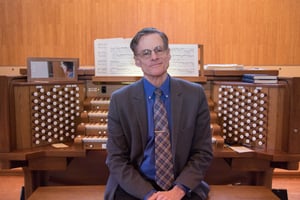 In his 22-year span as our chapel organist, Mr. Horne has played 1,762 preludes and postludes ranging from Praetorius to Bach to Buckner to the Star Wars theme. I know for many of us, listening to Mr. Horne's preludes is perhaps the most peaceful time in our hectic Tabor lives.
Mr. Horne's various choral groups have serenaded us throughout the year in Chapel, in All School meetings, at the Spring Concert, the Madrigals May Concert, at graduation, and even singing the national anthem before a basketball game.
Mr. Horne has created a vibrant vocal music program at Tabor that welcomes the beginning singer in the mixed chorus as well as challenging the advanced singer in the Madrigals. The energized, wonderful singing of the mixed chorus in the Spring Concert on Tuesday was evidence of that! It's not unusual for Tabor alumni who have sung in the Madrigals to continue singing in a cappella groups in college—-trained and inspired by David's work with them at Tabor. Past Madrigals fondly recall the annual March trip to such places as San Francisco, Florida, New York, Puerto Rico, and even Dublin, Ireland. During the Madrigal trip to Washington, DC, years ago, one Madrigal recalled a time when the group spontaneously sang U2's moving song, MLK, in the Lincoln Memorial much to the stunned amazement of tourists! Emily Chandler '05, a Tabor alumna and past Madrigal singer, said this about Mr. Horne: "He gave us, as singers and performers, the opportunity to be part of something much greater than ourselves as individuals. What we did together, the music we made, transcended everything else we did at school. When we sang together we became one entity, focused, and inspired to create the best music we could."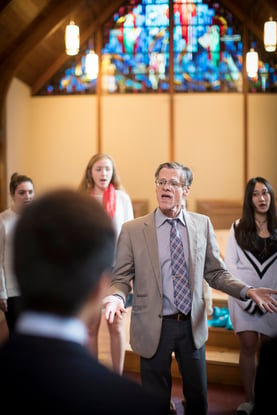 One of Mr. Horne's most vital roles has been as the music director for the past twenty-two musicals, ranging from In the Heights to Kiss Me Kate to Hairspray to Grease. Regardless of the singing demands of the musical, Mr. Horne has consistently coaxed an engaging, rich sound from the cast, achieved by demanding that cast members sing the harmonies as scored. He adamantly refused to "dumb down" the score for less experienced singers and have them default to the melody or even a two-part harmony. I have always been impressed with how skillfully Mr. Horne worked equally well with both the neophyte soloist (Connor Cook '19 as Danny Zuko in Grease) and the accomplished soprano (Mia Vaughn '20 as Nina in In The Heights). Mr. Horne has routinely pushed the singers well beyond their own expectations to create a professional sounding show.
Up until two years ago, Mr. Horne was also the beloved dorm parent in Wee House for twenty years. To the six junior and senior boys who lived there, Wee House was not a dormitory, but a home. Mr. Horne routinely allowed the boys to use his kitchen to prepare snacks and meals. An accomplished cook himself, Mr. Horne often made bread, cookies, and even biscotti for his boys. Before exams, he would make his delicious pancakes for them.
And for years at Christmas time, Mr. Horne has taken it upon himself to give a solo dramatic reading of Charles Dickens's A Christmas Carol in the library. Having listened to Mr. Horne's reading, I can safely say that Mr. Horne is equally convincing as both the miserly Mr. Scrooge and the kind, virtuous Bob Crotchet. These readings may be his calling during retirement!
As his long-time neighbor, friend, and musical collaborator, I shall dearly miss Mr. Horne next year. I know the Tabor community will miss Mr. Horne's music that has been the score for his long career in the school by the sea. Thanks, David, for 22 excellent years.