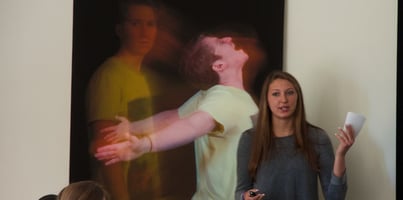 "Senior Projects allow seniors in good academic standing to drop classes in the last seven weeks as necessary in order to pursue a project of their own creation." This is how Senior Projects are described on the Tabor Academy website. One week into my project and that description doesn't feel exactly right.
The project is so much more than simply working on a product and learning a craft over the course of seven weeks, but rather a journey that allows the students to learn more about themselves, their work ethics, their passions, their cultures... And that's what I'm trying to show with my project.
My Senior Project is about Senior Projects. I am making a documentary about the journey that three seniors will undergo until the end of the year, through the ups and downs of this process. I am following Khalida Williams, Elizabeth Tarrant and Tucker Francis. Khalida is making traditional carnival pieces, Liz is writing and recording an album, and Tucker is restoring a 1961 50cc motor scooter.
Khalida is loud and proud about the fact that she is from Brooklyn, however she is also a first generation immigrant with roots in Trinidad as well. Her project is allowing her to jump into her culture by making traditional carnival pieces, which she wore growing up.
Liz has been writing songs for as long as she can remember; she writes when she needs a way to communicate her feelings. Her project is allowing her to pursue and communicate a passion that is new to a large part of the community, but a second tongue to her.
Some faculty members have remarked how interesting, and surprising, some of the project choices have been. Not because they are out of the ordinary, but simply because they seem to be random choices for the students doing them. However, they are far from that. While many students are associated with certain things, they also have passions that extend far beyond these borders. Liz Tarrant is often associated with being a tri varsity athlete, however she has been an artist for just as long as she has been an athlete. I am a rower, however I am also a photographer, a proctor, a Big Sister, and a peer counselor.
Tabor's Senior Projects Program allows students to follow passions that they don't normally get the chance to pursue. They are more than about just dropping classes and working on a project, but rather learning more about our passions. I am doing mine about senior projects because I want to show what happens during the seven weeks, from the hard work that goes on day in, day out to the personal and cultural growth.
Check back in a few weeks for an update from Lily as Khalida, Elizabeth and Tucker get further into their projects!