Please enjoy these excerpted speeches from our recently elected student Co-Heads of School. It is our custom at Tabor to elect a female and male co-head of school to represent the student body as the heads of our student government.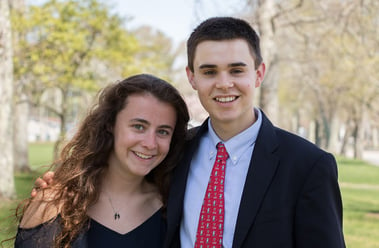 Sophie Browning '19
I want to tell you more about myself and who you would be voting for. My name is Sophie Browning. I am from Sag Harbor, New York, and it takes me three ferries or approximately two and half hours of boat travel to arrive here. I have a brother here named Charlie who is a freshman. I was the proud captain of the Girls' JV Soccer team and had a vibrant squash season with a total of three wins. I love dancing down the halls with Michael Jackson blasting and trying to moonwalk. I cannot help but say "Hi" to everyone as it makes me smile with joy seeing how many people are friendly, whether they wanted a hi or not. I also love science. Last spring, I used the greenhouse to start an aquaponics system with another classmate. I recently went to a conference in New York City that highlighted the importance of science, technology, engineering, and math in future careers.
Every person has great ideas floating around in their head, but let's actually put them into action. If you have an initiative you'd like to start let's do it. If you have a passion or an interest let's act on it. Next year, we can give our ideas life. I want to represent all of Tabor ideals, but what are those? The water, inclusivity, marine science, sustainability, sailing, culture, love of learning? There is not just one answer because Tabor encompasses everyone's talents and combines all cultures.
The bottom line is that everyone here is different and this is what creates unity in our community. Whether day student or boarder we bond as a school adhering to the same rules and class schedule, we go through the same high school hardships but we are all from different backgrounds making the people here so special.
I love Tabor, and this school constantly challenges me to try my best, pursue my passions, take on a rigorous course schedule and have fun while doing it. I hope that everyone feels this way and knows that although we do indeed live at school, it only takes a couple of months for us to start calling this place home.
Owen Sughrue '19
Being a faculty kid, Tabor has always been my home, and for these past three years it has been my school. My teachers, classmates, teammates, and friends are the best, most talented people I know. Together, we are artists, athletes, activists, and volunteers. Each of us has multiple interests and talents, giving us both common ground and opportunities to learn from each other. Next year, I want each of us to love going to school here. That's easier said than done. For many of us, I know it's not always a great day to be a Seawolf.
A head of school is involved in event planning, but more importantly, promotes an inclusive culture – leading by example, looking out for other people, making it a better day to be a Seawolf. I remember the upperclassmen who looked out for me, making me feel as though I belonged. Even though I could never come close to matching his skills on the soccer field, Tanaay Shah would always include me in pick-up games. His kindness towards me helped me feel more confident – in soccer and in school.
My own experience at Tabor has been enhanced by the varied experiences of my peers. Some of my best friends come from just a few streets away and some come from thousands of miles away. We should all feel that our culture, whether that's American or international, boarding or day, athletic, artistic, or anything else, is appreciated and celebrated here.
The co-head of school is a voice for the student body. I want to use my voice to make a better student experience. As your co-head of school, I would want to hear yours. And I would work hard to make sure that each idea is considered.
Tabor is a special place to me. In fact, until I came here, I had never liked school. In sixth grade at Sippican School, I would just gather my things at the end of the day and leave twenty minutes early. By the end of the day, I was just ready to leave. Tabor is different. The people here are like my family; some people actually are my family! I don't feel ready to leave--I feel ready to stay. As your co-head of school, I would work hard to make sure you feel the same way.