by Trinity Monteiro '17
It was an indescribable and phenomenal experience to have finally had Alexis Jones at Tabor this week after what felt like such a long wait and many months of planning. It still hasn't fully set in for me yet and it is hard to think this whole thing had just started as an idea I shared with Mrs. Millette the end of my sophomore year.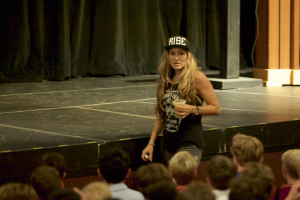 It is astonishing to think how it all came true this week. I've spent the last few months learning more about Lex, what she's done, and what she is currently working on. Each moment I found myself idolizing her more and more. From meeting her Monday night as she moved into the Quirk's residence, to her presentations Tuesday night, to my meeting with her Wednesday morning--those experiences have all seemed surreal.
I could tell the effect she was having on the girls from the moment she started talking, and I heard the whispers of "she's so cool," and "I love her" within minutes. She delivered such a strong message: "We all have inse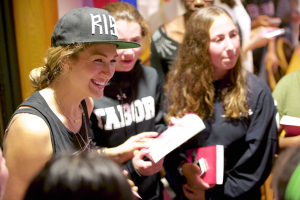 curities, even herself, and that we should never compromise or apologize for who we are." I know that really hit home for a lot of us, and was relatable in so many ways.
It was such a good feeling walking into the dining hall after Lex's last presentation and seeing all the copies of I Am That Girl in everyone's hands. So many people ran up to me saying how much they loved her, then rushed to get a copy of the book, saying they were dying to talk to her again. I had a mix of boys and girls come up and thank me for organizing this and it made all the hard work and planning worth it. It was hard not to fill up with tears of joy when Mr. Quirk had asked me what I was feeling in that moment.
When Alexis walked into the dining hall the reaction was incredible. The crowd gathered stayed all the way to about 10:30 just to hear her speak more, which was remarkable. I could see this wa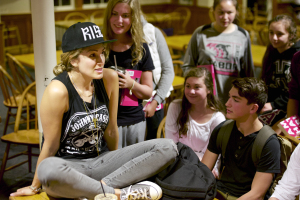 s the type of presence our community needed through the conversations happening, the tears shed, and the smiles across everyone's faces. I am just so happy that the community has grown to love her as much as I do, and that both students and faculty were so impacted.
This all couldn't have been possible without a lot of people including the faculty, dining hall, and particularly Mrs. Millette. I never thought in a million years that I would go from my small home in New Bedford to sitting and having coffee with one of my biggest role models. This is an experience at Tabor that I will definitely never forget, and couldn't have had without my Tabor community. I cannot wait to see what the future holds!