By James Downer '10, Graboys Leadership Symposium Speaker
The last mile of Nicaragua is stocked with single serving shampoo packets, Coca-Cola, prepay cellphone cards, and if my business partner Morgan Babbs and I have our way, solar powered lamps.
Before our final year as undergraduates at Tufts University, Morgan and I, spent a summer in Matagalpa, Nicaragua, running a pilot distribution company. Now a going social enterprise, Colibrí, sells cost saving solar products to low-income households in Nicaragua. Over a third of the six million people living in Nicaragua lack electricity. By focusing on a market segment overlooked or ignored by many, we are hoping to leve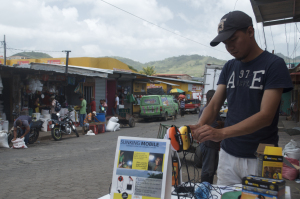 rage financial returns for a massive social return.
Areas that lack electrical wires also lack other infrastructure. Most of these areas lie on dirt roads, many of which are impassible during the rainy season. Nearly everyone in Nicaragua owns a cell phone, and those without electricity travel into town to charge them. Normally this means an inconvenient hour or two on a bus each way, but during the rainy season it's not infrequent to be unable to travel to town for weeks. Self-sufficiency is important at the last mile normally, but when something goes wrong, it's vital.
Solar that's accessible to everyone stands to make a huge impact. Not only do solar lamps eliminate the 10-25% that households without electricity spend on kerosene, they're up to 20 times brighter than the average kerosene lamp and aren't flammable. Solar panels are nearly 1/10th the cost today compared to the early 2000s, and battery and LED costs have similarly dropped in price. This makes solar technology affordable to everyone, even the "bottom billion."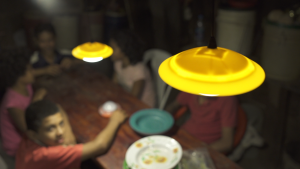 Given expenditures on kerosene for lighting, a $50 lamp will save a household roughly ten times its cost over a five-year period.
The problem isn't technology; it's a lack of distribution and financing. Fast moving consumer goods, like shampoo, Coke products and cellphone cards mentioned at the start of this article are getting to the furthest corners of Nicaragua, but their distribution channels are ill-suited for solar products. By working with integral members of local communities (such as school teachers) and strategic retail locations (like agriculture and agrochemical stores), Colibrí is able to reach areas overlooked by others.
But distribution is only part of the puzzle. Like shampoo comes in single servings and cell credit is pay as you go, many potential customers aren't able to make a large upfront purchase. This is why Colibrí is excited to launch the first pay as you go program of its kind in the region. With the launch of this offering later this fall, customers will be able to pay to own in installments equal to their former kerosene expenditures.
Pay as you go makes solar just as accessible as single serving shampoo p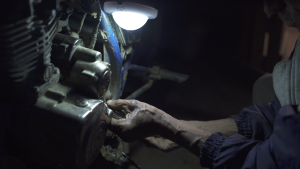 ackets. Electric light is a luxury we believe should be enjoyed by all, and we are proud to make it accessible by joining the growing movement to reach the last mile.
Currently in Matagalpa, Nicaragua, James and Morgan have raised over $100,000 to date from Dorm Room Fund, Davis Projects for Peace, D-Prize, the Tufts $100K Competition and are finalists in the Masschallenge Accelerator. They are currently raising funds to expand their 'Pay As You Go' service on Indiegogo and can be reached at morgan@colibri-global.com or james@colibri-global.com.
We wish James and Morgan every success at this worthwhile endeavor and look forward to James' participation in our 3rd Annual Graboys Leadership Symposium on October 20 focusing on Social Entrepreneurship.