By Lauren Boucher, faculty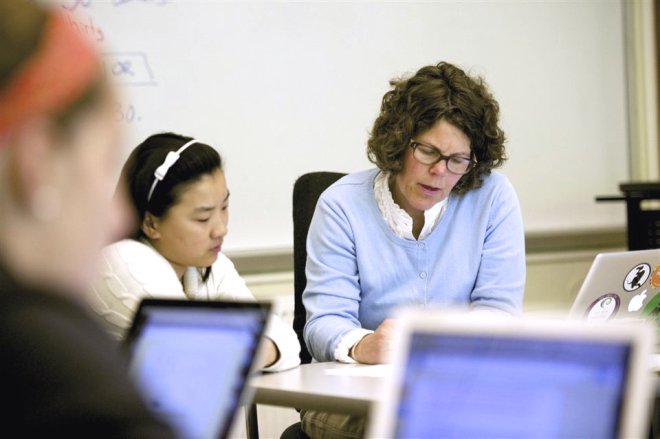 "Trust the gush!"
Each morning before Tom Romano, a professor at UNH's Summer Literacy Institutes, sends the 14 of us off to write, he reminds us to dig in and "play with the margins." Him instructing us to "trust the gush" is similar to Nike's motto, "Just Do It." Trust the gush is an insistent way of saying, sit yourself in a chair and write.
A student at UNH's Summer Literacy Institutes five of the past six summers, I take one or two classes and stay in Durham for one to three weeks. My time at UNH has been supported by Tabor's summer study grants as I pursue a Master of Science for Teachers (MST). Currently halfway through my degree, I look forward to UNH summers because of the focus on content and pedagogy and the excellent teaching and modeling which allows me to make informed change to my own teaching and classroom practice at Tabor.
Romano's Multigenre Writing class is one I had to wait two summers to take, and it was worth it. Beginning at 8:15 a.m., Romano conducts his classes in the way the 14 of us English teacher-students in the room might run our own classes; he is a model for excellent teaching. Each morning begins with poetry: Margie Piercy's "Made in Detroit"; Ted Kooser's "The Constellation Orion"; and selections from Jo Carson's Stories I Ain't Told Nobody Yet. The poems generate writing and discussion.
At the start of week two in Romano's class, we read three poems by Mary Oliver and then discuss dream archaeology. "Why do we dream?" Tom asks, and then responds, "We dream because the motor is running." Inviting us to use a dream to serve as a prompt for our own writing, Tom gives us time to write before we come back together as a class. I am stumped, but it doesn't matter. I remember Tom's words: "Trust the gush." What happens next surprises me. I start writing about a walk my dog and I had taken through a Portsmouth neighborhood the weekend before. Remembering the distant sounds of crows cawing, I put my pen to paper. The result is a poem that my classmates listen to me recite on the last day of class -- a personal, moving poem that generates applause and cheers. Before getting to that point, however, the poem has been revised, edited, and conferenced on multiple times -- a worthwhile process that means changing tenses, developing details, and deleting numerous words and phrases.
Multigenre writing combines research and inquiry, transforming topical information via analysis and synthesis into multiple genres of writing to include expository essays, prose poetry, and flash fiction and nonfiction. Tabor juniors who have written multigenre papers have also included original song lyrics, autopsy reports, magazine and newspaper articles, and fully-developed social media sites as a "writer's choice" piece.
My weeks at UNH recharge me; they make me a better teacher. When I'm there I question what I've been doing for years, scrapping some assignments, revising others, often creating new units and assignments. When I complete my MST, I will continue to attend the Summer Literacy Institutes. I cannot imagine at least one week of my summer not being spent working at teaching, reading and writing -- trusting the gush!