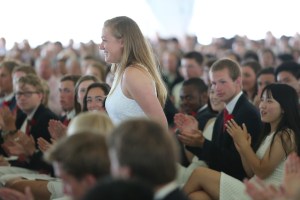 Hearty congratulations to the Class of 2015 on their graduation! At last, we may finally welcome them as alumni of our great school by the sea; and proudly so knowing all the good this talented and civic oriented class will produce in the years ahead.
We kicked off our 137th Commencement exercises with Prize Day, where the Class of 2015 enjoyed sharing the limelight with underclassmen as we recognized the significant achievements of our students in academics, athletics, and community engagement. Later, at Baccalaureate, our speaker, Christine Ward, parent of graduate Fran Ward, shared the importance of cultivating, listening to, and learning to trust our inner voices to find our integrity and live by it; a weighty and important lesson from a woman who is making a serious difference in our world through her non-profit work with women and girls through the Rockflower Foundation.
After the seniors were adorned with boutonnieres and roses, Tabor ties and necklaces, and one last picture taken together outside of the Wickenden Chapel, our community processed into the Grand Tent and took our places for a series of wonderfully heartfelt speeches from the student Co-Heads of School, Ned Mitchell and Hadley Ramsey, the Chairman of the Board, Carmine Martignetti '71, and our speaker, trustee Travis Roy '95, Founder of the Travis Roy Foundation. The speeches hit a common theme of appreciation for Tabor and the importance of the lifelong friendships made here. When Travis finally spoke, he encouraged us to find and treasure "real moments," those spent with the people we love, or in thoughtful reflection with ourselves--as Mrs. Ward had encouraged us. Travis asked us to have the courage to really love one another and not to be shy to feel and share our affections, our truths, our fears and challenges with each other as these are the real moments that bring out our emotion and create real meaning in our lives. Travis's speech left us stunned, and a bit weepy, with the utterly simple and beautiful truth of his message. There are many kinds of love, but it is what matters most and we must embrace it and let it guide us in our relationships with others to a more rich and rewarding life.
Please enjoy a brief summary video that will share just a part of his message:
[vimeo 129032876 w=750 h=450]
Perhaps we were following Travis's lead, as there was lots of hugging, laughing and crying after the ceremony of handing out the diploma's; and we then said goodbye to our seniors….for now. We hope they heard the other critical message shared: that they are a part of us, and always will be. That they made this place what it is today in this time, and we need them to stay connected, and remain involved and deeply committed to the school they love: their one and only Tabor Academy, our school by the sea.
To participate with our Seniors during their last week at school, visit these links:
Commencement Photos
Prom Photos
Senior Projects 2015: a webpage sampling some of the more visual projects presented