By Steve Downes, Director, Center for International Students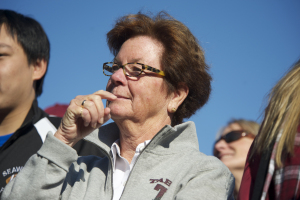 Merry Conway will retire this spring after 34 years of service to Tabor. Merry joined the Tabor Advancement Office in 1981 as the Editor of Tabor Today, and in 2002 was named Director of Communications. Merry was instrumental in establishing Tabor Today as the Academy's signature publication and more recently in establishing Tabor's web presence.
Also in 2002, Merry was named Associate Director of the Center for International Students. For over a decade, international students at Tabor have benefited from Merry's care, enthusiasm, and judgment. She has brought to life programs that bring the community together, including Asian Dinner and International Week. Her work with individual advisees and students has enriched and directed their lives along happy and successful paths. Over 300 international students have passed through Tabor during this time, and each of them has a story to tell about how Mrs. Conway's spirit and encouragement helped and improved their lives. She has been a tireless and enthusiastic traveler to the far corners of the globe, hosting and making friends for Tabor in Bermuda, Germany, China, Thailand, Japan, Taiwan, Vietnam and Hong Kong. With her engagement in Tabor communications and her work as the faculty advisor to the student newspaper, the Tabor Log, she has modeled what it means to give to the community and to take full advantage of Tabor's opportunities for growth and friendship.
The programs she leaves behind are a testament to her strong and lasting impact on the school and its students. While we will miss her enthusiastic good nature and good judgement on a day to day basis, we will take solace in knowing that, living nearby, she will stop in frequently and is just a phone call away!