By Steve Sughrue, Chair, Math Department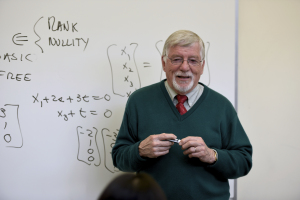 Tom Jaillet's teaching career has spanned 55 years, starting at Wareham High School in 1960, with stops at Gardiner High School, Tabor Academy, Sandwich High School and back to Tabor from 1985 through 2015. Along the way, Tom has served as the chair of math departments in Sandwich and at Tabor; coached varsity baseball, basketball, golf and math teams; run ski clubs; given tours at Fenway Park; served as head statistician for the Wareham Gatemen – whom he also played for back in the day! – and taught History of Baseball as an English elective course for Tabor's seniors.
A lesser known fact is that Tom's math teams at Tabor were champions of the Southeastern Mathematics Conference in 2012 and 2013, and have been strong finishers in these events in subsequent years. These conferences have publicly displayed the strength of Tabor's math department.
During a celebration in 2010 at Tabor to recognize Tom's 50th year as a teacher, a classroom in the math wing was dedicated in his honor. Tom's legacy is too great to sum up in a few sentences, but we all – students and colleagues alike -- are forever grateful for the opportunity to work with, and learn from, one of the finest teachers and mathematicians this school has ever known.
An avid golfer, we hope Tom can get out and enjoy the many lovely courses in our area during his retirement, and perhaps even get back to Ireland where he visited when on sabbatical. Just one thing, he needs to come back often to share his adventures with us. Until then, he will certainly be missed!