By Helene Sughrue, faculty
While the snow rages on outside, Tabor's singers, dancers, and actors have been busy inside, rehearsing Hairspray, the winter musical, and Love and Information, the winter drama.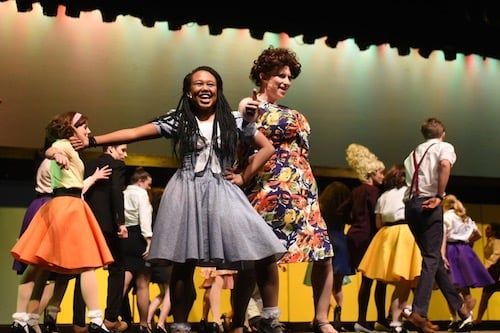 Love and Information
, by Caryl Churchill and directed by Donn Tyler, is a collection of skits, unified by the theme of love in the age of information. Each skit features a couple trying to sort out a relationship in a deluge of data. The small cast revisits that theme throughout the play to create a coherent, unique experience for the audience.
According to director Mark Howland, the nearly sixty students in the cast of Hairspray, the musical based on John Waters' 1988 film of the same name, see the play as "…[a kind of] debut of the marginalized, of those who look and perhaps sound different and who struggle to express themselves in a world that represses their voices." Despite all the weather-related stops and starts, the show went up Thursday evening to an appreciative audience. Dance co-captain Nicole McLaughlin says, "With a fresh cast and many new actors Hairspray was ready to become a great show…As opening night approached we were working hard and staying late to make sure our musical is the best it can be. This year's musical has been one filled with trials and successes, progress and growth. It has been amazing to be a part of a cast who has overcome so much as family."
Hairspray continues tonight in the Fireman Performing Arts Center at 7:30pm with the last show on Saturday, February 21. Tickets are free and the event is open to the public. Love and Information debuts the following week in the Will Parker Blackbox Theater and runs from Thursday, February 26, through Saturday, February 28, at 7:30 pm. Free tickets may be reserved by calling 508-748-2000.
Even if we just can't stop the snow, we can still enjoy the theater without having to venture too far away from home!
Enjoy this video about Tabor's drama program:
[vimeo 106533335 w=500 h=281]