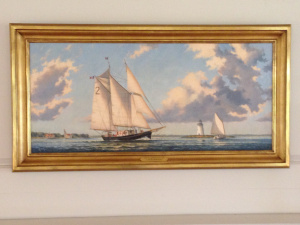 In September, we were honored to hold the memorial service for Tom Finn '85 here at Tabor with many of his friends and family present. Mark Aimone '86 was invited to speak in remembrance of Tom and to share the story of a special effort Tom made on behalf of Tabor before he died. What follows were Mark's remarks at the service.
Like many of us at Tabor, Tom spent most of his time with friends, some time on the athletic field and a little bit of time studying. But as we honor him here today, Tom's legacy at Tabor will be defined by his passion for an experience that was brief in time, yet ever lasting in it's impact.
During his senior year, Tom had the opportunity to travel to the Caribbean onboard the Tabor Boy. A voyage that was likely not more than a couple of weeks, but one that would leave an indelible impression. As happens for so many who spend time onboard the schooner Tabor Boy, Tom's passion for the vessel was ignited; thirty years later the trip would define his legacy at Tabor Academy.
A couple of years ago, Tom called me and asked me to meet him for lunch in Rochester to talk about an idea he had for a painting of the Tabor Boy. During lunch he said he had seen the work of David Monteiro – a noted maritime artist from Plymouth- Tom wanted to commission him to do a painting of the Tabor Boy. His enthusiasm for David's work and his excitement about making this happen for Tabor was obvious.
I shared with him that the timing would be perfect as the schooner would be celebrating it's 100th Anniversary in 2014! Well, you know Tom; he became even more excited about the project. He immediately began talking about what a great opportunity this would be. He envisioned the painting on permanent display for all to see. We could print posters, note cards, sell copies of the prints – the possibilities, as always with him - were endless.
Over the course of the next fourteen months, we had a number of conversations about the painting. Just as I was thinking he had forgotten about it or I wondered about where things were on this, I'd get a message from Tom letting me know things were moving forward and laying out the next steps.
Last fall, David Monteiro came to campus and had the chance to see the schooner, take a sail, and gather everything necessary to bring Tom's vision to reality. The end result is an absolutely beautiful painting. Fortunately, before he died, Tom was able to see the finished painting in David's studio after it was complete.
Just as Tom wished, the painting is hanging over the fireplace mantle in the living room of the Admission Office. I know he hoped that perhaps a prospective student would be inspired, just as he was, by the spirit of the Tabor Boy and the call of the sea captured so beautifully in this painting. I know Tom's classmates and I will remember Tom fondly whenever we see this incredible gift, inspired by his passion. It serves as a wonderful reminder of his enduring spirit.
Thank you, Tom.