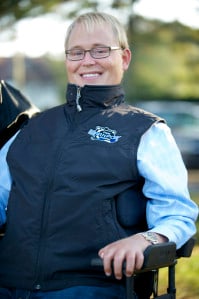 On November 20 at Cipriani on Wall Street, The Christopher Reeve Foundation will be awarding Travis Roy '95 with the Christopher Reeve "Spirit of Courage Award" at their A Magical Evening celebration in New York City. Senator Tom Harkin is the other honorary guest and it is suspected the foundation will be doing something in memory of Robin Williams that evening, a close friend of Dana and Christopher Reeve.
In sharing the news about this honor, Travis expressed his thanks to his family and friends, "It is important to me that you know I will be receiving this award on behalf of all of us. Since October 20, 1995, we have all done everything we could to make the best of what was a devastating situation. I want you to know you have played a role in providing me with the courage I have needed in order to get up each morning to live a fulfilling and productive life."
A fulfilling and productive life, indeed! Like Christopher Reeve, Travis has not wasted a moment since his injury, endured during his first collegiate hockey game in October 1995, to try to help others who have travelled a similar path, and to raise awareness for research to support medical advances for injured people. Travis's work through the Travis Roy Foundation has brought hope and courage to many people suffering from spinal chord injuries, providing them with equipment and support to make their lives just a bit easier.
Tabor is proud of Travis's commitment to service, for his motivational messages to so many people reminding us to seize the opportunities we have and to face our challenges, whether those challenges were chosen, or they chose us. He is the embodiment of our mission to inspire a life-long love of learning, to instill a passion for the highest standards of achievement, to encourage personal responsibility, and to foster care for others and committed citizenship. Travis is a beacon of courage and conviction and we are proud he is a seawolf!
Travis Roy '95 joined the Tabor Academy Board of Trustees in May 2014.