A student-led endeavor, using recycled materials, and benefitting local businesses was a wonderful way to raise awareness and pride in Tabor Boy during her 100th Anniversary year.
After moving to Tabor in the summer of 2012, Head of School, John Quirk, and his wife, Casey, spent some time on Tabor Boy getting to know new students and familiarizing themselves with the schooner program.
Enamored with Tabor Boy, and armed with an idea based on a sail bag she had received as a gift, Casey asked Captain James Geil, Master, Tabor Boy, to start holding onto used sails as they were replaced with the idea of making Tabor Boy sail bags for our community. (Casey is quick to share that her mother, Barbara Curran, came up with the idea, and learned later that Jane McCarthy P '10, Administrative Assistant to the Head of School, had suggested a similar idea some years ago.) Throughout 2013, Casey explored the idea with various Tabor faculty, students, staff, and alumni, and created a small committee to get the project started in hopes that the first batch of bags could serendipitously coincide with the Tabor Boy's 100th Anniversary in 2014.
By late fall 2013, a stack of used sails and lengths of used line were freed from the sail loft and delivered to Sperry Sails by Zane Randall, Tabor Boy Assistant Captain. These included the jib topsail that flew from 1995-2000, the gaff topsail and foresail that both flew from 2006-2013, and line that was used from 2009-2014.
The Sail Bag Committee, comprised of Holly Francis '14, Executive Officer, Tabor Boy, James Barton-Souza '14, Engineer, Tabor Boy, Bob Thompson, Director of Leadership and Planned Giving, and Casey, started meeting and visiting Sperry Sails to explore items and designs. The thoughtful student-led discussions included types of items, shapes, sizes, color, handles, accents, pockets, tags, open versus zip-top, as well as the color, size, and placement of the schooner's sail number "2" on the totes.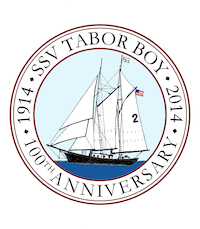 The group also created a 100th Anniversary Commemorative Seal, similar to the Tabor school seal, for use on the front of the bags and for our anniversary event invitations. The group pulled in faculty members Tricia Smith, from the Art Department, and Chris Botello, from Media Arts, to help. Through Tricia, Jennifer Joung '16 created the first rendition, which was later re-tooled by Tucker Francis '16 with input from Chris, Capt. Geil and Holly. Tucker, who crewed in the summer of 2013, led the seal design group in skillfully perfecting the illustration of the current schooner, changing the text, and providing the beautiful color. Needless to say, Tucker was now officially a member of the Sail Bag Committee!
By early spring 2014, the bags were ready for assembly at Sperry Sails and The Shirt Shack, who did the print work. In the end, all of the sail material yielded fifty each of the large and medium totes, and fifty extra-small ditty/duffels.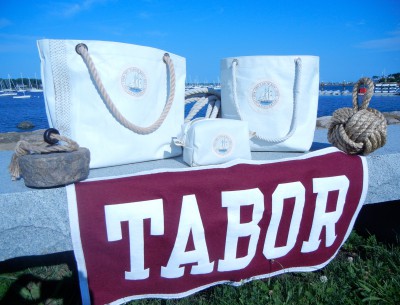 Via email, the bags were offered in exchange for a donation in July 2014 to current and past Tabor Boy crews. Within 24 hours, most bags were sold and all production costs recouped, with the remainder of the donations supporting the Tabor Boy program.
Plans are already in the works for the next batch of available used sails. Ideas for future items include extra-large bags, wallets, small "wristlet" pocketbooks, belts, and ornaments. Stay tuned as we hope to have them ready to go in the next couple of years!