Each spring, students have the opportunity to apply for a travel grant from Tabor Academy to support their interest in language or cultural study. The grant is made possible through the generosity of The Shattuck Family, who created this opportunity ten years ago based on their gratitude for their son's experiences and awakening to the wider world through his study of foreign languages at Tabor.
Ethan Hartzell '14, much like the Shattuck's son, Will, is a student of multiple languages. His application rose above the many other applicants due to his true linguistic gifts and his unique destination. He was our first student to venture away from Europe and into Africa!
"Two weeks studying the Arabic language and living with a host family in Morocco was a very rewarding experience which gave me further confidence in my language abilities, in both French and Arabic, and taught me a great deal about Moroccan culture. Whether I was speaking French or Arabic, studying or exploring, eating tajin or couscous, bartering in the souq (market) or riding a camel through the Sahara Desert, I was having a great time and learning all the while."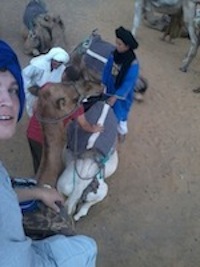 Ethan studied Darija, the Moroccan dialect of Arabic. He told me that aside from Fusha, Modern Standard Arabic, which is used in news and media, every country has its own unique dialect that gradually diverges from the standard. "Since I had already studied Fusha, I thought it would be most useful to study Darija, which also incorporates a great deal of French vocabulary," Ethan explained.
He enjoyed language classes each morning followed by visits to the old medina (city) or Rabat with his new friends, taking in the sites and shopping at the large market. At night, meals and games with his host parents and their children: Khalid, Marawa, and the youngest, Bushura provided a relaxing and entertaining home life.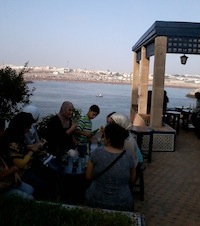 Ethan will share photos and stories about his experiences to the full school community this fall, which we hope will encourage others to take advantage of this unique opportunity to step out of their comfort zones and experience the world in a new way.
Creating global awareness is a major strategic objective at Tabor today, part of our newly approved Vision 2026. The Shattuck Grant, our only travel grant at the moment, provides a great model toward helping students learn more about the world and their role in it. We are so appreciative for the Shattuck's vision and for the demand this opportunity has since created among our students. Our challenge going forward is to meet that demand, launching more students into new cultures around the globe.
Watch out world: Here we come!