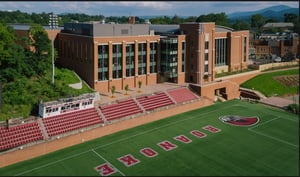 I spent the first week of December on a whirlwind tour of Virginia colleges with stops at Roanoke College, Virginia Tech, Washington and Lee, the University of Virginia, Richmond and William and Mary. My trip was motivated by an invitation to attend a program for college counselors hosted by Roanoke College, and despite beginning with two missed flights that necessitated a three-hour drive from Washington, DC, to Roanoke, the college tour was an eye-opening experience.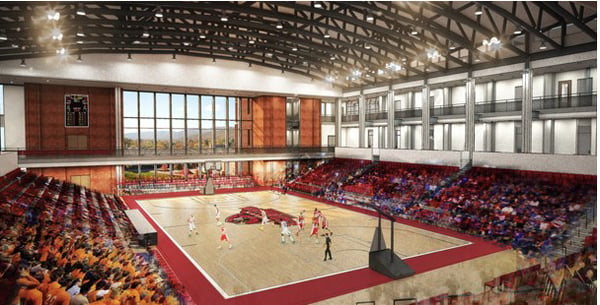 Roanoke College is a liberal arts college located ten miles outside the city of Roanoke in Salem, Virginia. Roanoke is located in a beautiful small-town with access to outdoor recreation opportunities in the Blue Ridge mountains, and it also has the amenities of a small city right next door. The school boasts impressive athletic facilities for a Division III institution. Students who are interested in business take advantage of myriad internship opportunities in the Roanoke Valley area. The school also boasts strong relationships with two major health care providers in the valley for students interested in a career in the medical field.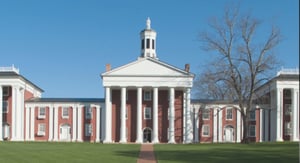 My second stop was at Washington and Lee University, a liberal arts college named for George Washington, who provided an initial endowment for the school, and Robert E. Lee, one of the school's early presidents. Washington and Lee is located in the small town of Lexington, Virginia. The school has an impressive academic tradition and boasts outstanding internship opportunities in Washington, DC. Wrestling with how to maintain its name and traditions while still being welcoming to all students, the school commissioned a panel to study the university's history and traditions with everything up for discussion – including the school's name. While the panel's report suggested several changes, it focused primarily on how the history of the university and Robert E. Lee are represented on campus, and fell short of changing the school's name. Increasing diversity on campus is an institutional priority.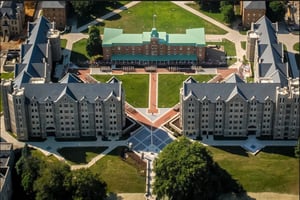 Virginia Tech occupies a spot at the other end of the educational spectrum. A large research institution with 30,000 students and a pronounced military presence, the school's motto "Ut Prosum-That I May Serve," pervades this tight-knit community. Tech has incredible facilities, offers over 100 majors, 900 student clubs and organizations, and Division I athletics. The half day that I spent on campus was not nearly enough to see everything.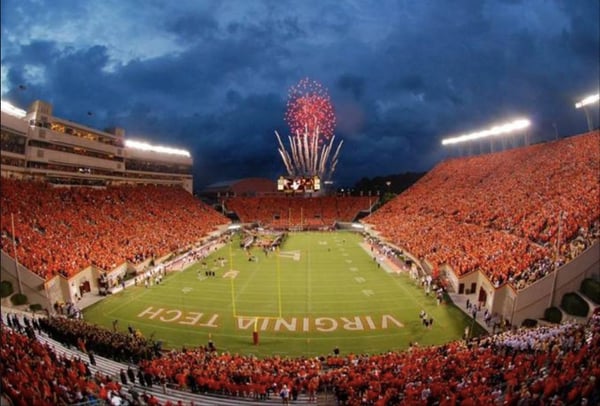 The University of Virginia, located in Charlottesville, was founded in 1819 by Thomas Jefferson. The undergraduate population is 16,655 students. Despite this, over half of UVA's classes have fewer than 20 students. Unfortunately, my visit coincided with the start of fall semester exams and the campus was much quieter than normal. The campus is spread out over 1600 acres and has a suburban sensibility. UVA's graduate programs include the highly-ranked Darden Graduate School of Business, the Curry School of Education, the School of Engineering and Applied Science, the School of Law and the School of Medicine. Greek life is prominent at UVA with a membership that includes approximately 35 percent of the student body.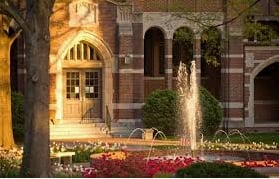 The University of Richmond may have been my favorite campus on this trip. It has an undergraduate population of just over 4,000 students and is located on an idyllic 960-acre campus only six miles from downtown Richmond. At Richmond, they take an interdisciplinary approach that integrates the arts and sciences with business, leadership studies and law. The school also guarantees every student up to $4,000 for a summer research or internship experience.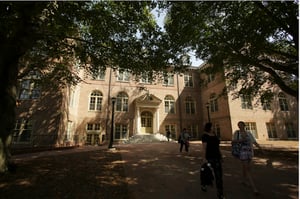 My final stop was at the College of William and Mary, founded in 1693, the second oldest institution of higher education in the country. William and Mary is famous for its rigorous liberal arts curriculum. The 1,200-acre campus is located in historic Williamsburg, Virginia. The 6,285 undergraduates are actively engaged with more than half participating in community service projects each year. Approximately 50% of students study abroad during their undergraduate careers. At lunch-time each day the area outside the student center is crowded with food trucks, and the crowds they attract lend a festive atmosphere to the campus.
The educational opportunities in Virginia are extensive and not to be overlooked. Every type of school is represented: large research institutions, small liberal arts colleges, and schools of various size. So, if your college search is leading you south, don't skip over the great state of Virginia.