May is a beautiful time of year to visit the Hudson Valley, and I had the opportunity to take a quick tour of the area and visit four of the schools near Poughkeepsie, NY. Despite traveling only 39 miles between schools, it was amazing to see such a broad range of educational offerings.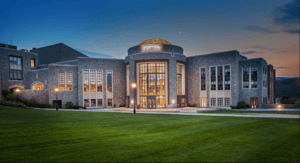 My trip began at Marist College. Named for the Catholic brotherhood association that founded it in 1929, Marist boasts a scenic Poughkeepsie campus that overlooks the Hudson River Valley. As one of the top colleges in New York for liberal arts education, Marist requires all first-year students to complete select foundational courses in writing, philosophy, social/natural sciences, and technology; these courses are collectively known as the Marist Core. With 23 Division I teams and 47 bachelor's programs, this liberal arts powerhouse on the Hudson boasts a first-rate academic-sports combo. Not only is it all over the news for its top teams (women's basketball is huge), but you will also hear about its communications program, including the Marist Institute for Public Opinion and the Center for Sports Communication. Marist also offers a Fashion Program that can lead to either a Bachelor of Science Degree for Fashion Merchandising or a Bachelor of Fine Arts Degree for Fashion Design. The 33 undergraduate degree programs available at Marist are classified into six academic subdivisions: communication and arts; computer science and mathematics; liberal arts; management; science; and social and behavioral sciences. Marist's joint programs includes a five-year B.A./M.A. in educational psychology and B.S./M.S. pathways in information systems and computer science/software development.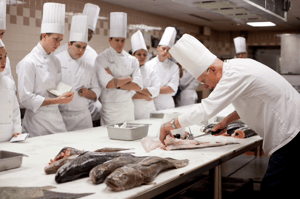 The next stop on my tour was one I would gladly repeat, and it would be well worth a side trip just for dinner if you are in the vicinity. The Culinary Institute of America (CIA) is located in Hyde Park, NY, and also has campuses in California, Texas, and Singapore. If you crave a food-focused future, this world-class culinary college will serve you well. Two-thirds of class time for the 2,770 undergraduate-degree-seeking candidates is spent minding the stove and working in the student-staffed public restaurants and cafes. Prominent alumni include the late media personality Anthony Bourdain, award-winning cult restauranteur Grant Achatz, and Food Network veteran, Cat Cora. The depth and breadth of the academic program were eye-opening. You can study food business, wine management, culinary arts, baking and pastry arts, food business management, culinary science, applied food studies, or hospitality management. The school places students in internships and jobs at top restaurants and resorts across the country and internationally. The myriad of career paths CIA graduates pursue is also surprising. The CIA is not just for students interested in becoming chefs.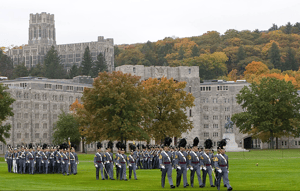 The following morning, we headed to West Point to visit the United States Military Academy (USMA). I had been to West Point for 4th of July as a kid and in my professional life as a collegiate coach, but this was the first time I was afforded the opportunity to learn about life as a cadet. The sense of purpose on campus is palpable, and while the environment and demands of the military life are not for everyone, this is an awe-inspiring institution. The USMA is free of charge. In exchange for tuition and expenses, cadets serve a minimum of five years on active duty and three years in the reserve upon graduation. Admission to the Military Academy is highly selective: Fewer than 10% of applicants are accepted, and to be considered for admission, candidates must obtain nominations either from a member of Congress or a person who is service-connected. West Point has more than 20 research centers and nearly 40 majors. While a strong background in math and science is necessary to gain admittance, students are not limited to those areas for the choice of majors. The curriculum requires cadets to complete a senior capstone research project, and on the school's annual Projects Day, one cadet receives the Scott R. Clark Innovation for Soldiers Award for demonstrating an innovative approach to solving a problem of direct application to the army. Cadets can participate in more than 100 organizations, including a fine art forum, the glee club, and the drill team. The Army Black Knights participate in 28 intercollegiate varsity sports at the NCAA's Division I level and are known for their rivalry with the Naval Academy, particularly in football. The list of notable West Point alumni is long and illustrious and includes Presidents Ulysses S. Grant and Dwight D. Eisenhower, General George Patton, and Secretary of State Mike Pompeo. But USMA alumni have been just as successful outside of the military and politics: Mike Krzyzewski, head men's basketball coach at Duke; Alex Gorsky, CEO of Johnson & Johnson; and William Foley II, Chairman of Fidelity National Financial, Inc., all attended West Point.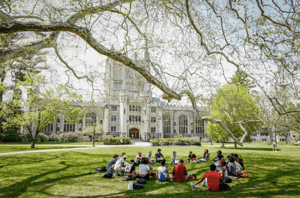 The last stop on my tour and an interesting juxtaposition to West Point was Vassar College. Vassar first opened its doors to students in 1861, becoming the first educational institution in the United States to grant degrees to women. Vassar is the second-oldest member of the historically female college association known as the Seven Sisters, but today Vassar is considered one of the best colleges in New York for coeducational learning. Vassar also maintains a close-knit, individualized atmosphere for students; 2,450 students enrolled in Fall 2016, and the current student-to-faculty ratio is 8:1. Vassar does not grant master's or Ph.D. degrees, so all of the college's degree programs are for undergraduates. Students may choose from a total of 52 areas of academic study; most programs are rooted in the arts, humanities, social sciences, and cultural studies. Vassar is known for its progressive curriculum. It was among the first colleges to offer courses in drama, psychology, and Russian; the first to offer an undergraduate degree in cognitive science; and among the first to offer interdisciplinary programs. The majority of Vassar graduates go on to pursue a master's or doctoral degrees, so the undergraduate pathways are designed to prepare students for advanced education.
While it is unlikely that all four of these schools will be on your college list, they represent a great cross-section of the opportunities available to you in the Hudson Valley. If you have the chance to tour one of these campuses, take advantage of it.