Hey guys! I hope everyone is having a great summer vacation, and is ready to start out a great new school year.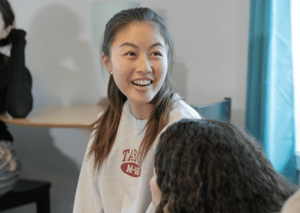 I'm Eari Nakano '20 - a proctor at one of the dorms at Tabor. I want to say welcome to the new students and briefly introduce "dorm life" as well as the role of proctors. In a few short days, you will be settling into your new dorm room, likely meeting your new roommate, and starting to become familiar with the Tabor campus.
I know how daunting it can be to start out at a new school - especially one that may be miles away from home. Two years ago, I remember being absolutely petrified walking into a dorm with 28 girls I had never met before. But within seconds, I was greeted by two senior proctors and the dorm parents who were so welcoming and immediately put me at ease. Throughout the year, the proctors would touch base with me and the other students, making sure everyone in the dorm felt comfortable and respected. There is definitely a big support system within the dorm from your dorm-mates, proctors, and dorm parents.
The proctors in your dorm will be there and will try to help you with anything you need, whether it may be homework help, personal struggles, or even just to hangout. Our role is basically to cultivate a unique dorm culture that everyone feels a part of. We want you to feel comfortable and at home. While the dorm parents are the more authoritative figures of the dorm, students typically develop close relationships with them. I absolutely love my dorm parents and go to them for advice all the time! They are really like parental figures in our Tabor dorm homes.
As Proctors, we also want to make sure dorm life is fun :) We usually organize a bunch of dorm activities during the school year, such as movie nights, cooking with dorm parents, holiday-themed events, basketball games, trips to haunted houses, etc. Our dorm parents help too by inviting us in to bake or for game night or just to talk together after study hall.
While the thought of living in a dorm can be intimidating, you will get to know the other students really quickly and soon enough you will have made a ton of close relationships. By the end of my first year, I had gotten to know all of the girls in my dorm, who are now some of my best friends. I don't think I would exchange the experience I've had living in a dorm at Tabor for anything.
As we approach September, I hope everyone is excited to begin the new school year as an official Seawolf! I promise you that everyone at school will be willing to help you out with anything you need, and before you know it, you will be calling Tabor your second home, too :)