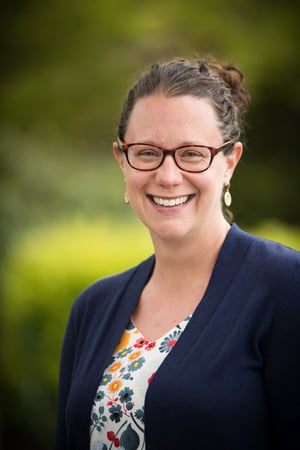 Once upon a time in the middle of Iowa's cornfields, a young woman in her senior year at Grinnell College accepted the position of Senior Admission Fellow in the Office of Admission. Her role? To interview prospective students as they visited campus throughout the fall and prepare write-ups for inclusion in their application files. Fast forward almost twenty years. That same admission fellow is now a high school college counselor.
The work done that year and in the ensuing four years I served in the Admission Office at Connecticut College guides and shapes my work as a college counselor today. Over the years I've noticed that the word "interview" strikes fear into the hearts of high school juniors or seniors when used in conjunction with the words "admission" or "college." But, it is important to understand that when a college requires or recommends an interview as a part of their admission process, they are not implying that students will face an interrogation or be asked typically difficult and abstract questions no one can possibly answer. Rather, these interviews are used as a means to provide another personal dimension to a student's application. Certainly an admission interview may be evaluative, meaning it will be considered in the application review, but ultimately the goal of any interview is nothing more than a conversation: a give and take between student and interviewer.
By reframing the interview, some of the stress and anxiety that surrounds these meetings can be diminished. In so doing I do not mean to downplay their significance in the process nor give the impression that one does not need to prepare for an interview. The opposite is true. For the colleges that require or recommend interviews, these conversations serve the purpose of capturing a personal interaction, one that is often documented and evaluated along with the other application materials. So, how does a student make the most of an interview?
Exhibit confidence and comfort in highlighting academics, extracurricular interests, and employment during high school.

Be ready to discuss collegiate aspirations, hopes, and goals for college.

Prepare questions that demonstrate knowledge and understanding of the college and an eagerness to learn more from the interviewer.

Most importantly, be yourself!
Most colleges offer admission interviews in the late spring or early summer of a student's junior year. So, for the Class of 2020, there is still plenty of time to prepare for these conversations. To provide practice, the College Office will host its annual Mock Admission Interview Day on April 29th. On this day, invited admission representatives join us at Tabor and offer students the chance to engage in mock interviews and receive valuable feedback regarding interview etiquette. These practice conversations are a great way for students to build confidence as they prepare for official interviews. As the date draws closer, more information will be shared with students about Mock Admission Interview Day.
Other important points:
Not every college or university values interviews as a part of their admission process. To learn whether an institution requires or recommends an interview, it is imperative that students visit the college's website to learn more about interview opportunities.

An interview can take place either before or after a student has applied to a college. Most on-campus interviews happen prior to application submission whereas off-campus interviews, whether with an admission representative or alumni/ae, may occur after the student has applied.

For the colleges that do offer interviews, there is variety. Some colleges only offer on-campus interviews, while others offer interviews with admission representatives as they travel to various locations. Certain colleges only offer alumni interviews. In addition, a growing number of colleges offer students the chance to interview via Skype. Oh, and do you remember the "Senior Admission Fellow" at the beginning of this blog post? It is entirely possible that a prospective student may be interviewed by a Fellow, someone just a few years their senior. Rest assured, no matter the type of interview, it will be evaluated and included equally in a student's application.
Remember, at its core an admission interview is a conversation. Good luck and happy interviewing!