Eileen Neville Marceau joined the Tabor Academy faculty July 1 as Dean of Studies. Mrs. Marceau completed her position in June at Charlotte Country Day School as their Upper School Director of Studies, a role she had held for the past six years.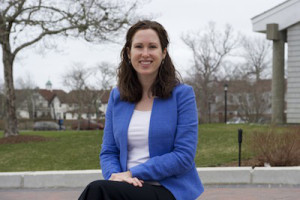 Looking for a career with purpose, and having enjoyed working with teens through community service organizations, summer camp, and international exchange/service learning programs, she determined early on that education was where she belonged. She began teaching as a Japan Exchange Teaching (JET) program participant in Fukushima, Japan. Returning to the U.S., she joined The Williston Northampton School as the International Student Coordinator. It was her first experience working at an independent school, and she found herself soon won over by the focus on community and the strong, positive relationships fostered by an independent school environment.
Her career experience with diversity and international students, her commitment to global education and her belief in the importance of community, risk-taking in education, and personal responsibility are core values we share and feel are important to have strongly represented in this position which in her words acts as "a good steward of a school's academic purpose and vision." As Dean of Studies, Ms. Marceau will manage the academic life of the school as well as ensure that the education we provide remains relevant and challenging as we prepare students for a successful and purposeful life in an ever-changing global landscape.
Her Educational Philosophy Statement includes key words such as joyful, balance, community, technology, questions, journey, growth and responsibility. She states, "Great education pushes students to step beyond their comfort zones, stretch, succeed and fail, and learn from the results. Great educators model that desire for growth, including the willingness to take on positive risk for gain, even when it is uncomfortable."
Ms. Marceau is committed to the four tenets of Tabor's mission statement: to inspire a lifelong love of learning, to instill a passion for the highest standards of achievement, to encourage personal responsibility, and to foster care for others and committed citizenship. We welcome her to Tabor and know her talents, values, and her passion for truly exceptional education will complement our administrative efforts to advance Tabor's mission and enhance the impact we have on students' educational lives and outcomes in the years ahead.