By Helene Sughrue, faculty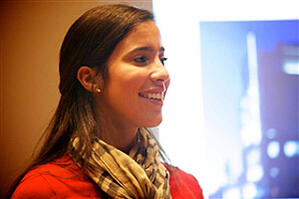 Maria Ferreira-Cesar '10
Maria Ferreira-Cesar '10, a senior Mechanical Engineering major with a concentration in Manufacturing Engineering at Boston University, returned to Tabor as an Inspiration Ambassador of BU's Technology Innovation Scholars Program. The program sends Inspiration Ambassadors into elementary, middle, and senior high schools to show students the impact engineering has on their lives.
Blending math, science, and creativity, Maria is entranced by the idea that engineering can turn ideas into reality, improving quality of life for individual people or for whole communities. She explained how engineers created a functional prosthetic arm by devising a system that allows the man who needed it to control its movement with his own muscles: He can write, point a finger, or clench a fist as easily as if the prosthetic arm were a part of his own body. In her summer internship at General Electric Power and Water in Greenville, SC, she worked with a team to create more efficient means of extracting natural gas from the ground.
After she graduates this spring, Maria will return to GE--this time as a full-time employee. For two years, she will rotate from job to job, changing both post and location every six months. For now, she is busy working not only at school but also at a New Balance plant in Lawrence for her Capstone Project. Her team has been charged with helping the plant's Cutting Operations department reduce waste and the company's loss in wasted materials.
Engineering has a reputation of being tough, Maria told the students gathered to hear her, and "...it does live up to that reputation, but my passion carries me through." She "...could not be happier with what [she has] done in the past four years." Her own college experience has been full--and varied. She urged students to study abroad, as she did her junior year. Studying engineering in Dresden, Germany, provided her a completely different perspective on the same topics she had studied in the US. She encouraged them to be involved in as many parts of campus life as they could be: She has a part-time job, participates in community service, is both a Dean's Host and the president of BU's chapter of the Society of Women Engineers.
An engineer must, Maria stressed, be able to communicate her ideas. Writing, she continued, is important: "You have to be able to translate science into words." A strong writer at Tabor, Maria also speaks four languages: Spanish, Portuguese, English, and German--which she studied here. Defying the image we may have of engineers, Maria loves to read, finding that getting lost in another world feeds the creativity she needs for engineering. Tolstoy is her obsession; Anna Karenina is her favorite book.
Maria truly sees engineering as an artist's domain; she sees beauty in the intersection of creativity, math, and science. Math and science are important, she contends, but "…even if you don't love math or science," Maria said, "you can still love engineering."